Brett T. Cooke
Aug 4, 2012
---
Been meaning to catch up with you, but I'm a slacker. Anyway, just quick note to drop my contact info on you. E-mail is buffalohd@netzero.net and cell is 2698452618.
Regards from Kevin Bellville

9/14/12
KP Note: Man, Buffy, I hope you're coming to the Dec 1st reunion....
---
Links Not Workin ....
Hey Ram,

Hope things are well with you...are you still doing the website with everyone's email, etc. on it? I tried the link and it didn't work so I was wondering if it still existed.

Things are good here.

Bill Scoggin

bascoggin@aol.com

9/16/12
KP Note: I
don't know, Billybob. I never deleted 'em but I guess they aren't there anymore. Everyone keeps asking about it. I hope y'er getting your azz up to Norfolk on Dec 1st. It wouldn't be a 'fantail" party without you. If you want to find someone's email address on this site, here's a way to do it:
http://www.google.com/advanced_search?hl=en
Just use mooj.com as domain and type in the name. This works really well. I am no longer compiling email addresses but will leave 'em in the sea story submisssion.
---
Buffy's Coming!!
You can count on me to be there. I've been contemplating where to stay. I was thinking Va Beach.
Let me know where you're staying. Who else is coming, and where do they plan to stay?

Kevin Bellville
buffalohd@netzero.net
9/16/12
KP Note:
Kevin, were all staying at Norfolk Airport Hilton.
---
Gentlemen,
I think I found these two items one foggy night, at the bottom of the drydock in Hunter's Point. I'm also thinking that the statute of limitations has run out by now. You probably saw the GE label plate if you had to go into one of your RCs for various and sundry reasons. And that's all I'm saying.....

Not quite a primary valve cap, but still...

Peace/Out

9/16/12


---
I want a shim switch or a Tave meter. Either will mount nicely between my keyboard and monitor.
Wayne McKinzey
9/17/12
---
I want a sound powered phone, one that is taped together after suffering a severe injury from an overly angry Reactor Mechanic. For old time sake. It would mount nicely on my garage wall.
Rusty Maxwell
9/18/12
---
I want the Throttleman's throttle wheel from no. 1 propulsion plant, a grease gun filled with mobil red, and a chain hoist. My wife said I can keep only two of these items in our bedroom. Hmmm....looks like the throttle wheel is going into the garage - All Ahead Full!
Squid Vicious
9/18/12

---
REALLY wanted the DOPEY BOOK out of 3 plant Rx Aux Lower Level! How about a shout out from the infamous names in that bible of ill repute...

Danny McKinsey
9/18/12
---
Clearly, the dopey books, if they still exist, would probably be the most valuable treasures on the ship, I forgot about them. They just cannot fall into the wrong hands. It just came to mind how the dopey book landscape changed or potentially changed with the addition of female nukes on board. Would the content have been toned down or would it have gotten even more outrageous, for lack of a better term? Quite frankly, women can certainly be more tacky when they choose to be.
Rusty
9/18/12
---
Word is Out!!!
I've been contacting everyone I know about the decom ceremony. "Q" Gyolia and Dick are coming. So is Kieth Shiver, Bill Hillow and many others. Keep spreading the word!
KP
9/18/12
---
JB Checks In

This is the greatest web site ever. I am looking forward to the inactivation ceremony -

I was a MM in #2 Plant 1973-1977. Made two West Pac's & part of a third – mojo'd into submission, rest the soul.
Our dopey book was kept between the tool cabinet and the angle irons in #2 LL RAR.
Some stupid let it get confiscated though. Hope they had a good laugh because I still do. My name was "Homer"
If I had to do all this again, I would.
JB
jbbower@snet.net

9/29/12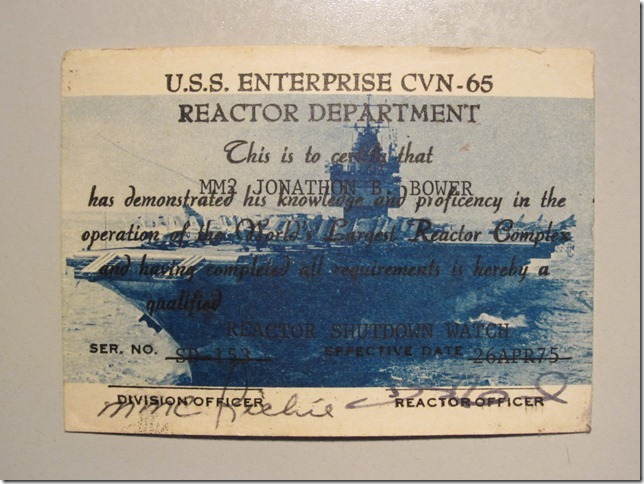 ---
Card Playing Dave Morgan Comes Aboard ...
KP,
Im actually amazed that you have the ability to remember so much from the cruises. I was on the Big E from 89 to 93.

I was one of the card playing crew and remember many of the stories that you have recounted. I remember Kim and Wussland. I was assigned, it seemed like, to the coop every few months. While there we worked but definately played a lot of cards. Billy Good was one of my best friends that used to play with us all the time. I do remember the person that turned us in to try and save paying his losses. One of the games we used to play was called BooRay. It was a super fun game that needed guts, spades ability and some luck. You either cried BooHoo or yelled HooRay because your paycheck could be in the balance either way after only a few hands. Im curious if anyone else from the Card Playing Crew is on here.

I cant remember all the names like you guys so let me know what ones you remember.

Are you guys going to the ship decommissioning still?
Dave Morgan
Coop Division
dmbucs@hotmail.com
10/6/12
KP Note: I'm going and so is just about everyone I know. This could be the last time we're all together.
---
Another Card Crew Story from Dave Morgan
Everyone in the Rx Dept should thank the card playing crew. If you guys remember there was a big screen television in the lounge that everyone used to watch. Well we were the ones that bought it and carried it on to the ship. We wanted something to make the cruise better. As in normal BigE custom, when the ship got in to NN for overhaul we tried to take back out our TV and were told by the lifers that the Navy now owned it.
Dave Morgan 10/6/12

---
From Lynn Small...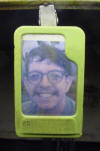 10/27/12
---
INACTIVATION
Has anyone sent in a request for an invitation and not herad back from the Big E? Do we have a point of contact there that can help someone who hasn't heard back yet?
KP
10/27/12
---
L. H. Will be there!
KP:
Yeah, I'll be there. Flying in Thursday. Flying out Sunday. Staying at the Airport Hilton. As for me, I don't want a piece of the old gal to remember her by. With sledge hammer in hand, I'd like to go a few rounds with the HPAC in #3 RAR. Gawd, I hated that thing! It'd only blow down when you were standing right next to it. And, as nukes, there was nothing we could do about it as it was "cared for" (I believe) by A-gangers.
See you in Norfolk!
Leverett Hadlow RM23 80 - 83
11/1/12

---
IMPORTANT INFORMATION ABOUT INACTIVATION CEREMONY
I just talked to Bob Gorsuch, who is in charge of ceremony. More tickets will be mailed out this week. There are only a few thousand seats left so please contact Bob at
robert.gorsuch@navy.mil
if you're attending. As long as he has your name you will get in. But you have to act fast. only 12,000 seats are available and he's already sent out almost 10,500 tickets. NO OTHER SHIP IN THE HISTORY OF the NAVY HAS HAD THIS KIND OF TURNOUT FOR AN INACTIVATION CEREMONY.
I have also contacted public affairs officer on Big E trying to get ex nuke tour of propulsion spaces. Who knows. We can at least ask.
See You all in Norfolk!!!
KP
11/1/12
---
Bill Patric Will Be There
Hey KP,
I'll be there with family in tow! I was onboard in the early 80's in RM-22. Looking to see if Mr. Tom Wotherspoon or Adam Mosher is attending? Any other brothers from that time?
Bill Patric

11/3/12
---
Nuke Pow Wow, Jamestown Style ...
Ram:

Can we get something up on the Mooj page or Facebook about getting together for the inactivation?

Maybe we can set up something informal … and get together like we did at Hanger One??

Mark
YES! I was just thinking that (but didn't want to volunteer for the job of organizing it). Most of us will be there Friday and Saturday. I leave Sunday morning. Best bet would be Saturday Night. 
I know many are staying in Norfolk Airport Hilton so that may be a good place to do it. Thoughts, anyone?
KP
11/4/12
---
Hey, Just in Time for .... whatever's coming up..... The P-Mooj is posting Live Shows Again. Catch out shows here: Free Music Downloads.
KP
11/4/12
---
Tim Wiley Comes Aboard.

Hello,

I'm Tim Wiley (Wile E. Coyote) from Reactor Control Division (Reactor operator and Reactor Technician) and I was in the #4 plant from the spring of 1968 until the late fall of 1971. That was almost 40 years ago and has anybody else from that remote period of history signed up?

I went through the fire, Vietnam, two trips around the Horn, refueling in Newport News, chased women in Olongapo, the Pueblo incident, the engine room so hot you would pass out if stood watch more than 2 hours and several bouts of the clap. Does anybody know what happened to Captain Crunch?

Email : wiley25785@comcast.net

Tim Wiley
11/4/12
---
MAKE SURE YOU RE-REGISTER for Big E Tours!!!!



T
hey are filling up fast. You should have gotten an email telling you to do this if you had registered a few months back. They are finalizing everything now. I will be on the Friday 11-1 tour. Hope to see most of you then. Also, most of us will be in the Norfolf Airport Hilton--
Friday night will be our Nuke Pow Wow, most likely at the Hilton. Best bet is to keep checking the KP Facebook page for details (I won't be able to post to this site).
KP
11/12/12
---
For those who cannot attend the inactivation ceremony ….
here is a booklet and video
11/20/12
---
Thanks for all youv'e done with this site. I will be attending the Inactivation ceremonies but was too late to get in the Hilton. I will be staying atthe Navy Lodge if anyone else is in the area.
Paul Burke
11/20/12
---
Inactivation UPDATE
Okay, laddies, looks like most of us will be in Norfolk Friday night (11/30/12). Thus, being a social lot, I propose a get together. Most of us will be in the Norfolk Airport Hilton. I guess that's a good place to start things off.
I probably won't be able to update this site in Norfolk (cause I probably won't bring a computer). But I will have my iPhone, so I can update the King Paul Facebook page. I guess that's where to check for updates.
CAN'T WAIT TO SEE ALL YOU GUYS AGAIN!!!!!!!
You local boys need to start collecting Yueling lagar now, so we'll have enough for Friday night. Who's mixing the Mojo?
KP
11/20/12
---
Hey, was wondering if you've come up with a time that you'll be having this nuke get-together, Friday night at the Hilton? Ralph Hall and I will be staying at the Wingate, south of the airport, but I'm sure he will want to make it to this gathering of the nuclear minds, as do I.
If the plan is simply to wing it, I figure on sometime after the dinner hour.
Thanks,
Mark Liddle
11/25/12
KP Note: As Of Now we are planning to get together Friday Night at the Hilton. The gala will start when the first two nukes meet up (probably in the bar area). Nothing formal has been planned so we're basically doing that "we pull in somewhere and everyone winds up at the same hotel" insta-party. I will be staying at the Hilton with many, so someone (me?) will leave a note with the concierge where everyone is. DOES anyone have an extra ticket to inactivation? My bro-in-law "Nitro" never got one in the mail. Can someone help us out? They should have his name but who knows.....
---
Tim Link Comes Aboard
Ram,
With the decommissioning just a week away, I realize that I'm VERY late to the game. Andy Zimmerman gave me a link to your site today, and I'll admit I've used most of today pouring over the pages and pages of posts looking for people and stories I recognized.
First and foremost, is there any official or non-official get-together, other than the ceremony itself, planned on or about December 1st? If so, when and where? I'd like to be there.
Finally, if "yes" to the previous question, would you please add me to the site? If you do, here's my blurb:

-----------------------------------------------------------
Greetings to all my shipmates from the USS Enterprise! I served from December '84 through December '87 in EE30. I didn't know this site existed until today, so consider me a decade late and a cool mil short.
I had heard just a week or two ago about the decommissioning coming up on December 1st, 2012, and my heart is heavy. I guess I always thought that someday, a few decades later, I'd be able to take a tour and reminisce about all the good times that were had. Some of my most memorable were hanging around with Jeff Baumer and tormenting Bill Shaut. (I read in a post on Page 1
http://www.mooj.com/rxdept_page1.htm
- about 2/3 of the way down - where Bill Shaut actually pulled someone over while on NAS Alameda to make a citizen's arrest because the guy had run a stop sign. Yeah, THAT Bill Shaut!) Oh, there are way more stories, too.

I spent most of my day today (Black Friday, 2012) pouring over the many pages on the site looking for people I knew and reading the stories. My memory has lapsed over the years, and seeing names brought great memories to mind. However, for the life of me I cannot remember my handle in the "Frog Log."
Here are some of the names I do remember and would love to reconnect with: Walt Boat, Rob Maas, Mike Cagle, Brian Schwake, Jeff Baumer, Rob Shane, Scott Fullam, Gary Finke, Kevin Kidder, Mark Herzinger, Kelly Sullivan, the other Kelly from EE30, Neal Slocombe, Joe, Rich, Sam, and even Bill Shaut so I could apologize for all the tormentings. I'm in touch via Facebook with Neil Waite, Shane Wikfors, Andy Zimmerman, and Lyle Wright (or Zippy the Pinhead as Jeff used to call him). I see Lyle in Barnes & Noble once in a blue moon. I'm sure there are others whose names have left me.
Thanks, KP, for the awesome thing you've done by hosting this site. I truly regret that I didn't know about it until now.

Tim Link
-----------------------------------------------------------

Thanks, Ram!

11/26/12
KP Note: I remember you well, Tim. You often played bass in the E-Div lounge. We may or may not have jammed in the Big E band, as I recall sometimes you'd be the fill in bassist and I was the fill in guitartist. We will meet Friday night at the Hilton. I'll see you there!!
---
GET TOGETHER will Be Friday Night--at Norfolk Airport Hilton. Details will be left at front desk or with concierge. SEE YOU GUYS FRIDAY AND SATURDAY!!!!!!!
---
We Stepped into a Time Machine

For a brief moment in time we were all 25 again.
"This is a No-shitter...." If you were staying at the Norfolk Airport Hilton, you would have been told that there was no beer left at the hotel bar. Yep, we ex-nukes drank 'em dry. I cannot tell you how good it was to see everyone again. We may have been a tad bit fatter and grayer, but we were all the same. I didn't think I'd be emotional during the inactivation ceremony but I was. Seeing our ship lose her flags and have her crew marched off wasn't that bad--but when they turned off the "65" lights ... I realized they were off forever.

I'll upload my photos to KP Facebook Site ...

KP

12/5/12










---
Those that attended Inactivation, like me, noticed Mike Bowden's name had been omitted from the list of those who died on board. Mark Best contacted the ship about this:
KP:




I have been in contact with the PAO who was (at least) partially responsible for working the list of those who died.




She replied:




I'm so sorry for the oversight and really not sure how it happened.
We've been working on this list for several months in coordination with
the Navy History and Heritage Command and through our own scouring of
command history reports.




All that I asked her to do was ensure that the ship actually acknowledged the error. I also asked her to look into the deaths of the 2 ELTs who went into the ammonia void without gas free. I think one of them was Eric Sauerborn, but I am not for certain.




We will see what happens next




Good to see you.




Mark Best
12/7/12
---
Those looking for Facebook KP Site, here's a link to it: http://www.facebook.com/pages/King-Pauls-Reactor-and-Engineering-Memories/173391616045224?ref=hl

We've complied about 200+ photos. Some of these should be showing up on FB site.
---
Chuck Elwood Comes Aboard

KP, What a great site, shame on me for not getting to it many years ago! I was in RE div (3 plant) from 75-77 and RE training in the void from 77-79. I was able to see some pictures and messages just looking for a while yesterday from guys I worked with, really cool!
I would like to be included in any distribution you have and also, is there an email list with guys names, I would love to be able to contact some of them, I did make contact yesterday with one guy which was great!
thanks and Merry Christmas to you and your family!
Chuck Elwood
Why do some of the links no longer work?  Are you no longer maintaining 




this site?





I am a former 4 plant reactor operator.  I was onboard for the 




"wonderful" fire of 1969.  Convince me the site is working and I will 




upload all kinds of junk, like "Were you ever aware that 4 plant had its 




own official duck?"  One of our old "dopeybooks" told the tale of how, 




sadly, the bilge pumps ejected the poor fellow while we were at sea.  It 




originally was one of the baby ducklings that the street vendors sold in 




Olongapo City that sailors would buy and, against all protests of the 




vendor, would feed to the alligator/crocodile? in the pen in front of 




the Chicago Club.





D. R. Fudge (formerly IC1)
drfudge1130@bellsouth.net
2/11/13
---

WITH GREAT SADNESS I MUST SHARE THAT OUR SHIPMATE AND BROTHER JIM SCHIBETTA HAS PASSED AWAY.

http://www.legacy.com/obituaries/news-herald/obituary.aspx?n=james-charles-schibetta&pid=163198788&fhid=2424#fbLoggedOut
Jim Passed Away Monday, Feb 18, 2013. I'll never forget Jim. He served aboard the Big E before me so I didn't know him on the ship. Like many of you he ran across the "KP" Site and sent in some stories. His stories, however, were ... well, I guess the best way to describe them was they were a tad bit crazier than most. I knew I had to get to know this guy. We began a friendship. We were both musicians so often Jim would call me when he found an awesome bass, or as he was preparing to take the stage with his brothers … or sometimes when he was just bored on his long drives. I'd call him often too. Just to talk.
Most of us knew Jim had cancer. He fought it for two grueling years. I spoke to him right before the Inactivation, just hoping he might have the strength to make the trip. He didn't. He shared with me then things had turned for the worse.
RIP Arrrrrgh! I'm gonna miss you, Bro. You will never be forgotten.
KP
2/22/13
---
PLEASE HELP:

 My name is Robin Schibetta.  I am Jim Schibetta's sister in law.  As you are aware Jim recently passed away.  My mother in law is searching for a picture of Jim in his military uniform.  

She would like to hang this picture next to the American flag that the color guard gave her at his funeral.. This picture would mean the world to her.. ( she is 78 years old.). Is there any way you can reach out to his ship mates to see if anyone has this missing picture?  

Thank you so much for your time.

Robin Schibetta

4/1/13
---
Hi,
It's been awhile since I have been to your web site. The link to the RX and ENG Alumni list does not work.
I was a Nuke in RL Div from May '75 to June '78. C.C. Smith was Cap't. during part of that time. I attended the deactivation ceremony with my two daughters and we had a great time.
I wanted to look up the names of old shipmates in the list and to check to see if I had entered my name.
I came across a couple of Dopey books that I had forgotten I had while going through some old boxes of stuff. I want to send them on to someone rather than to throw them out.
Anyway, I am Patrick J. White ( MM1 Patrick White), former RL-1 Group Supervisor. I went by the nickname of PJ.
pjwhitepj@frontier.com

KP Note: Don't throw those dopey books away! Send them to me. I am the 'unofficial' librarian of Big Dopey Books. I'll keep them safe for all enternity. email me and I'll send you my address.
---
Bill "Waterpumps" Smith passed away 26 Dec 12.
he was a machinist ... probably the gen before me ...
an old hand when i got there in 71. one fine fellow.
not sure if he ever showed up on the Mooj Prise site or not.
anyway ... just trying to get the word out.
Steamer
4/1/13
---
. Sorry to hear about the death of MM1william p , aka water pumps, smith. I knew him well. He was a big bike rider . He and MM1 Bill radek got this miserable NQP thru and qualified. He will be missed.I would like to add a fellow big e nuke to our list of departed. Warrant officer Floyd McManus RC Div 1970-1973. Recently learned from his wife, Kay, that Floyd passed away sept 23, 1997. Floyd was a good friend. We came on the E together while undergoing core 3 refueling in newport news. Floyd came from the sub fleet and had just made warrant officer. He lived four doors down from us at the same apt complex. We managed some real tomfoolery, at least for officer types.


Tim
---
Tark Writes In About Jim

I was really bummed to find out that Arghh had passed. I saw him at Perry last summer and certainly some time in the Spring 2012. He was working when he felt like he could and going home when he couldn't, I thought he looked OK. He told me he was fighting, had some good days and bad days, but not looking good. I had a brief stint with Cancer myself in 2007 and I had told him if my polluted body can kick it then he surely can. He was a really really good dude and it does kinda piss me off that he had to leave so early. Us Enterprise guys seem to loosely keep in touch and if I knew how bad he was for him, I would have gone to see him a few more times for sure. I do get to visit and see a handful of our shipmates as I visit Plants with my job, Arghh was always my favorite. He was a true partier at 110% back in the day. After he got out of the NAVY I used to kid him that he went to 7-11 and found Jesus when he was really going for beer.
Jim Tarkowski
4/25/13
---
I read references in steamers notes about a Mr A. Could that be my good friend and shipmate mike aneshansley described in site below with picture?
Tim Stanley

---
I had served with MMCS Paul Burke on the USS Simon Lake in the nuclear repair division. Can you tell me what Paul's email address is? He was to my knowledge returned to the Enterprise for two tours.

Your help is greatly appreciated.
R/
For anyone interested, this book on the Big Tuna will be available soon. It's over 700
pages covering, Pre-Construction thru Inactivation. It's a tad expensive but looks like
something I'd like to have. Lots of pictures and interesting narratives. Info & plentiful
excerpts are available at this link:
Regards, JB
MM - 2 Plant '73-'77
Went steamin' in Hong Kong – woke up in Kowloon
---
Hello Paul,
My name is James Blanton. I am a Naval Reserve retiree and had a good friend from RM "A" school who was part of ship's company in 1969 during the horrific fire. He and I have just recently made contact again after some 30 years.
The reason for my email to you is, however, on another subject. One of my high school classmates from Parsons, Kansas, was married to a pilot who was killed when his plane went down in the Med on 15 July 1964. His name is Ensign Joseph Bernard Kelly, jr. I am trying to learn any of the facts of what happened on that day. There was another shipmate who died on the same day, CDR Albert James Thompson, so I am guessing they were in the same plane. I know very little about all the various planes that were used on the Enterprise at that time, but could the plane have been an E1B prowler, which was a 2-pilot aircraft?
Maybe there was a news release or something in the ship's bridge logs that would shed more light on the incident. I have attached a copy of the last page of the 1964 cruise book, that I found on
www.ancestry.com
, which is a memorial page. I was hoping to find a photo of Ensign Kelly, which I never found.
I hope to hear from you.
--
James Blanton, RM1 USNR (ret)
bucko.blanton@gmail.com
---
Ram,
Saddened to hear of the passing of Arrrrgh, Jim was an amazing guy. Just got access back to this site. Do you have an email for Lance(Hangar One) I will be in Oakland in late July and was interested in a possible tour.
Michael Noland
---
King Paul, what a great site you have. It really brings back the memories of being "haze grey and underway. After making it to page 49 while operating the power plant on midshift, there are a couple of things that need clarified. I was in NPS Orlando class 8106 section 7 (Elecetrician's0. I can say that we had four females in our class. 1ET, 2 EMs and 1MM. They made it through NPS and I know two made through NPTU Ballston Spa. One gal went to the USS Proteous, and she showed up at Browns Ferry Nuclear Plant in 1987.
I was on the "Socar" from 1982 to 1986. Never saw "your" pig, but spent a lot of time on mine. We didn't have a "Dopey" book, but instead it was the "Bitch" book stowed in #1 EOS. As far as Naples goes, the gut was a blacked out area on the map that everyone gravitated to. Many a sailor got rolled there. Really never heard of a nuke getting it. We used to like to tease the "Campfire Girls" that hung out around the castle until they get POed and start yelling and throwing stuff at us.
I may have worked with a couple of your compadres namely Mike McFarland, Jim Tarkowski, and Joe Halsey at Perry Nuclear plant. It was funny as hell when Joe would bring up something in Jim's past. He would get so pissed, then Joe would take off. This would've been in the mid-nineties.
It was crazy to hear that you warmed up for Robin Trower. That is great! I have listened to your free songs and will be buying a cd here shortly. My brother has a band out in Phoenix called "RU". I'm sure he'd like to see you guys play.
Kurt "Stubby" Stolpa former EM1 in RE01 on the USS South Carolina CGN-37
Kurt A. Stolpa
AEP Waterford
8/8/13
---
A Note From KP:

Gents, I am so sorry I don't keep this site current. I'll try to do better. Some of you may have known Mike Matthys (Ike Mike). He used to send in Ike stories and was pretty active on the Critical Thinking and Facebook sites. He passed away last month. He and I became very close (yet we never met). We shared a love for trivia and music
. We'll miss you, Mike!
8/8/13

---
Mr. Hill Sends in a Story!

"King Paul"
Now living in San Diego and just "found your website" with considerable enjoyment in reading tales and other interesting memories of my fellow minions. I was on the Big E from 87-90 in E-Division as the Electrical Tech. Assistant, stood a watch in every plant but 2 Plant, and was a good friend of John Anderson and Gordon Brown.
A sea story: While standing PPWO, I was able to demonstrate my "vast knowledge" of the ship's electrical distribution system with each loadcenter that fed power to the ship critical loads, and then found a way to help other EOOWs and Load Toads from becoming too complacent about a why they really need a normal ringbus lineup with all that redundancy.
It all started as a nice day to do some maintenance. Underway, I had just started standing watches with Chief Coffey in 4 Plant and we were getting ready for the next ORSE, I had moved over from 3 Plant. Steam was out of 2 plant. Central was busy, loadcenter 51 was being used for a diesel feedback for a Load Test, then the diesel's load got dumped, causing a loss to 5&6 SSTG auxiliaries and worse; the new non-nuke watch in 5&6 SWGR let it just brown out and worse; and me, upon hearing the fans and

auxiliaries

outside 4EOS coast down as both the 5 and 6 SSTGs lost steam, I made matters worse; mistakenly ordered my non-nuke 4SWGR watch to open 4SSTG output breaker because I thought my SSTG had browned-out, which he did without LD orders and worse; the EOOW (Lyle Davidson RTA) sequentially had to now watch as cascading power was lost to the available feed booster pumps and worse; as we lose feed in the forward group; and worse; as we get to have a steam-out scram in the forward group.
Surprisingly, the LD recovered emergency power quickly on a 1 SSTG lineup (on 8 SSTG). Then the EOOW and I discussed what few available options we had left quickly, and because we had recently discussed it at WO/WS training, but it was never tried, I was told to prepare to commence a dual-reactor fast recovery start-up to get 4 plant back online in order to provide steam back to 1 plant, and then we could get propulsion restored on 1&4 shafts, and then we could get our forward group SSTGs back since power was out everywhere except for emergency loads, mostly on the diesels.
So there I was, down dual and

practically

DIW with the shaft limitations on 3 plant. The ship was down to just

propulsion

on one shaft, and anything else might change that quickly. The RO (Bersticker) came down, and seemed amazed that I would be willing to do it alone (I couldn't wait for more help), and then he told me to start, and did it all with him watching, but as soon as I got the 1st plant back online, it got worse; because I was relieved (early) by Lt Plesche, and then disqualified me for a few days while I throughly explained all this to the CHENG (Bieda) before I would be allowed to stand watch again.
After that, and as if to make it seem we could make things better for awhile, we decided to put EE30 instead of E-1 Div in the dual SWGR rooms. Lots of good LD board questions came from that day.
You can add me to your list. I was saddened to see that Keith Bersticker has passed away.
Thanks for keeping up.
Andy Hill
87-90 "Big E" Electrical Technical Assistant
e-mail:
ssmdcso@yahoo.com
2/18/14
KP NOTE: I remember you, Mr. Hill! We stood watch in 4-plant a few times.
---
Help A Shipmate Out
Can you help me locate Master Chief Petty Officer Simon Elman who retired off Enterprise in about 1990. I have an octant that I borrowed while sailing across the Atlantic in 1994. I have lost contact with him and want to return it. Bill Bennett PO Box 247 Weaverville, CA 96093 tel: 530 623 3415
2/18/14
---
With Great Sadness I Must Relay that Mac Takaki Has Passed Away
I was just informed by Steamer that Mac passed away peacefully in his sleep on 12/15/14
2/18/14
---
---