More From Bser ...
KP,
You need to do a purge bud, you are so full of shit your eyes are brown. You got a lot of balls calling me a pain in the ass, after the stunts you pulled in Uncle Sam's Canoe Club. Still telling people that AC power is better than DC because you can reuse the electrons? When you ran out of clean underwear at Hunters Point BEQ - you stole what was left in the dryer at the end of the hallway. How could you wear a stranger's underwear? Do you still insist that florescent lamps do not emit light, they absorb darkness - the proof is that when they get full the ends turn black, Mr. plastic spider in the popcorn!!! One notes that you worked on the fusion project and there is no working fusion reactor yet. Coincidence... I think not. Ever encourage someone from Salt Lake City that what they had there was genuine table top cold fusion???
I found the program for Mike Bowden's memorial service in the Gloria Jeans Coffee Bean crate that you and your wife gave us as a wedding present. I'm not sure that the picture will tell all. If not I will scan it instead of taking a picture. He is still missed by thems that knew him. That was a deadly cruise - if I recall correctly we lost 14 men on that West-Pac. Were there 2 ELT's that violated confined space regs, and were overcome by Ammonia? Are they on the memorial? Remember the pilots in the ready bird ( the Fighting Aardvarks ) that had to eject on the flight deck because of a fire in the cockpit canopy controls. Yes sir, defending your country is dangerous business, and if you gonna talk the talk, you by gumm better walk the walk. I would have told that youngster ( back on page 9 that called for advice about signing up and shipping out) that it is no joke, but that it is one of the finest things to say " I served". I made more friends, saw more of the world, and proved to myself, beyond the shadow of a doubt, that I had the "right stuff". Everyone that made it to RX Dept did.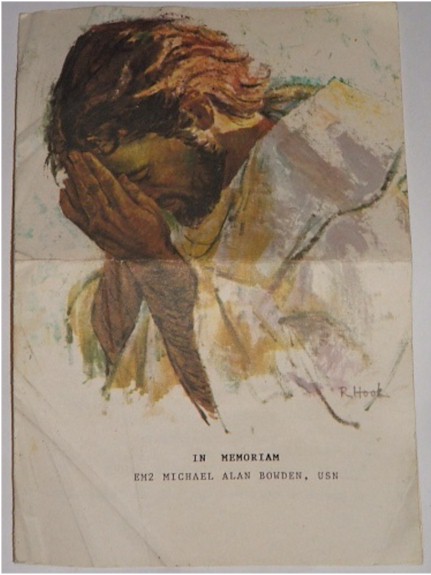 If you are serving now, just remember this,

(1) You can endure - play the military bullshit games - it's nothing personal ( even when it is! ) .

(B) You are upholding a proud tradition that earns you a place in this country's history - read 1776 by David McCullough and know that you are brothers with those men ( and quit yer bitchin - you 21 st Century softie )

(lll) Glory lasts, the pain will fade, and you will be left with memories that you could never have gained in any other way. I did, in fact, refuse to have my picture taken on that last Cruise because I was fed up and hated everything about the Nav and swore that I would drink the 6 years of hell I went thru out of my system, and yet here I am, 18 years later telling you to do your best for God, your Country, and your shipmates. Stand that watch to the best of your ability and you will not regret it.

Lt. Lee, I apologize - I'm not sorry, but I do apologize for what happened. You are a good man and welcome at my campfire any time.

Yes, it took 16 years of Rusty Nails - that is 3 parts Chevas Regal to 2 parts Drambuie over ice every 15 minuets until the room spins in a clock-wise direction ( counter clock-wise if in the southern hemisphere) - and 2 years of learning how to install and use Windows, to tell you this, but I am proud of my ship and my Shipmates, not you Goldilocks.

MMCM Devil, you deserve every name and earned every slam in the dopey books, but when my mom got the cancer and was all alone back home during West-Pac 88, you had me in an S-3 Viking an hour after the telegram got to the ship. A Cat-shot is a rush more than equal to seeing the Enterprise, underway, in the rear view mirror!!! I never said thank you for that. MMCM, Thank you. ( Salute...2 ) Or were you just trying to get rid of me? If you are ever in Dallas look me up, I'll buy you a beer or 3. No hard feelings. Not after 16 years of the afore mentioned libations. ( my other fav is 3 shots of Espresso, a shot of Brandy, a shot of Bailey Irish Cream, and a shot of Hershey's chocolate syrup - a recipe learned from the stage manager for the band Journey. It is called " Uncle Steve's Rocket Fuel". Guaranteed to wake the dead and put the living back on their feet.). See you in the funny papers.

Musical interlude # 2 - to the tune of " Afternoon Delight" The verse goes like this........... and a one and a two

Gonna find my baby gonna hold her face
Gonna grab a little afternoon disgrace

TTFN The ol' B.S.'er

....[about two hours later]...

Wrong again, boy blunder. I'm up to page 14 - and the sign wars. Why would Lance put hair in my shoes? He wasn't stupid ya know. He put the hair in my pillow case. I woke up an hour after hitting the pit all itchy and scratchy. I had to do the yearly rack cleaning early, and take a shower before I could get any rest. Lance got puss rockets ( sausages from Le deck du mess ) in his shoes for that one. Greasy, meaty toes for a 150 degree 4 hour watch. At the time it was mean, ugly and frustrating. Today, I'm laughing so hard I threw out my back. My wife thought I was having the big one, I couldn't catch my breath. God I miss being around the smartest collection of people I've ever known. Kept you on yer toes. You knew who your friends were - but not always your enemies, right Lov---d.

I found a gag memo, but it is too faded to scan, so I will type it in . I saved it, so I get the credit. It may have been EMC Simms from RT ( great advice from him... "When you first take over a division, or group of people" sez he in that quiet, serial killer kind of way " Stab hard and stab deep, and you may never have to stab again"). A true sage of the modern era Mooj not withstanding.

The Memo was purportedly from LCDR Lyle Da---son. RT DO - another in a small group quality Leaders.

Dated May 1989 To: All Rx Dept Personnel RE: The Special High Intensity Training Supervisor ( The S.H.I.T.S.)

In order to assure that we continue to produce the highest quality training and preparedness possible, we will be administering the Navy wide program called Special High Intensity Training . We will giving our Nuclear Trained Personnel more Special High Intensity Training than any other Department on the ship. All of our Section leaders are well qualified to see that you receive all the Special High Intensity Training that you can handle. If you feel that you do not get your share of Special High Intensity Training , please see your Division CPO. you will be placed at the top of the Special High Intensity Training List. Please watch for your name to be prominently displayed on the S.H.I.T. List. If you feel that you have had enough Special High Intensity Training already, you will be given the Basic Understanding Lecture List , Special High Intensity Training (B.U.L.L.S.H.I.T).I have assigned EM2 Stephens to assume the duties and responsibilities of Director Of Intensive Programs, Special High Intensity Training. From now on PO Stephens will be the D.I.P.S.H.I.T.. He will no longer be the Head Of Training, Special High Intensity Training ( H.O.T.S.H.I.T.) that he thinks he is.

As for why I joined up....... Musical interlude # 3 Pink Floyd - Dark Side of the Moon

Well you run and you run to catch up to the sun but it's sinking
Racing around to come up behind you again
The Sun is the same in a relative way but you're older
Shorter of breath and one day closer to death

And I had to get out of Oklahoma and do something before I wound up not doing anything worthwhile with my ownself.

MFNP BSr

4/17/08

KP Note: BSer, I have so many memories of you. You and I were great friends and classmates in NPS (we might have even been in EM-A school together too). I remember how delighted I was when I saw you on the mess decks of the Big E. You went to Idaho and I went to NY and somehow we wound up on the same ship together. I do remember how much you hated the navy, especially in the latter days. But I never knew you once to sleaze anything or give something less than 100%. Even with my quantum mind I could never quantify how many beers you and I put away in those long ago years. Or how many bands we saw together. If I'm not mistaken you were a semi-permanent fixture at our house in Dublin, as VW gave you his key every night he had duty.

I wonder if your "Larry Blakes" bumper sticker is still on the 2A RX...

So you're in Texas now? Too bad. Had a backstage pass for the next big P-Mooj show waiting for ya.