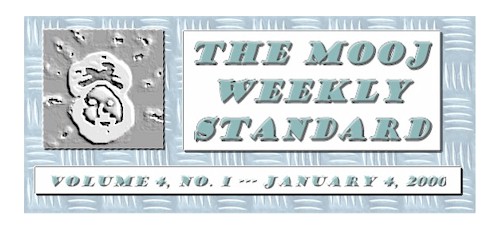 ---
De duobus malis, minus est semper eligendum!
---
Written and Edited by Mujaputtia Umbababbaraba (a.k.a., "Mr. Nice Guy")
---
The Mooj Weekly Standard is published semi-weekly by The Friends of Mooj Society, West Chester, PA. The price of each issue is anywhere between $1.50 and $16.95, depending on where you live. I, personally, wouldn't pay anything for it since it is available free of charge on the Internet.
---
Primeras Cosas Primera. I wish I could say that Trent Handjoy, Lance Worthy, Jeff W. and I were off on our great adventure by now but I can't. With great sadness I much announce that our trip to the Azores has been temporarily delayed due to some unforeseen circumstances. To read more about what these unforeseen circumstances are, please read the Travels with Mooj section below.

This, the first edition of The Mooj Weekly Standard, Volume 4 is jam-packed with good stuff. As usual we begin our newsletter adventure by gathering random samples of this week's Mooj Mail. (I'd like to say there are a few nuggets of wisdom in there but there aren't.) The Mooj Mail Bag is then followed by a roundup of our latest Mooj minions. This inaugural Y2K issue then continues with a healthy dose of poetry, non fiction and spiritual insights, which I'm sure will delight and enrich your lives. So what are you waiting for? Pull up a chair and let's begin!
---

Impotent Mooj,

Doug Redhand here. Once again I see you have no cash, no mode of transportation, and no woman to keep the home fires warm. You may argue that your $25 an hour Prince George's County call girl is your woman but now that your money is gone she's probably gone, too. If I could give you some advice it would be to quit your drinking and whoremongering—hey, aren't you supposed to be some sort of holy man anyway? The way I see it your drinking and carousing has cost you over $3,041,000 in less than three weeks. Get with the program Mooj! Good luck on your great adventure in the Azores.

Doug Redhand
Kingman Reef

The Mooj has finally come to his senses and has realized the foolishness of his most recent actions. I must have been suffering from weakness of the mind and spirit. I have no idea why I would engage in such reckless and ultra permissive behavior. Maybe I lost my organic center. Or perhaps my sixth chakra became clogged. Maybe I fell off my Merkabah. My Etheric Syncronisity may have become diluted. Or, I just never realized how much fun it was to get totally wasted and party all night long with hookers and crack heads. Whatever the reason The Mooj can now safely assure his minions that it will never happen again. (Or at least not until I can score some more cash.)

Mooj,

I'm totally in love with my boss. His name is Mr. Franco and he's a total stud. Everyday at work I go out of my way to let him know that I'm "ready, willing and able" but he just blows me off. I always wear low cut dresses and short skirts so that I can reveal as much as possible every time I lean over his desk or bend over to pick something up when he's standing behind me. But all he does is remind me that its against our corporate policy not to wear underwear. What do I have to do to get this guy to notice me?

Jenny Barnstable
North Adams, MA

Try doing some work for once.

Mooj,

I have a good sex life with my boyfriend but I can't help fantasizing about having sex with other men. I'm 24 and have lived with my boyfriend, who's 25, for two years. He's a Virgo and I'm a Capricorn. We have been together for seven years and are totally in love with each other. I also love to go clubbing with my girlfriends. We are all attached but love to flirt with the guys. Recently I have been tempted to have one night stands with every guy who even looks at me. Is this just a phase or is it time to reconsider my future with my boyfriend?

G.G.L.
York, PA

Why does everyone seem to think that The Mooj is some kind of sexual psychotherapist? I give free psychic advice not help sexual deviants work out their problems. The answer to your question is do whatever makes you feel good. If you want to sleep around then do so. Who cares? I don't.

Greetings,

Consider yourself contacted again by The Great Thinker's Society. We the members of this prestigious and ultra secret society have decided to offer you a sizable quantity of money to abstain from issuing your Year 2000 predictions. We feel that it is in the best interest of humanity since you have been deemed by our select committee to be a genuine psychic. We have been tracking your performance for the last eight weeks and feel that you do, indeed, possess a true talent for forecasting the future. In the past we have allowed other psychics to make New Year's predictions (Jean Dixon, Jackie Stallone, Madame Warga, etal.) because they were never considered credible or sane by our panel. But you, however, are a genuine psychic and we must prevent you from altering the course of human history by making predictions that we estimate will have a 50% likelihood of success. By accepting this sizable "donation" you must agree to delete statements or epochs from your forthcoming newsletter that make reference to the year 2000. I should point out that we have no problem with you doling out free psychic advice to your lowly minions, who are basically just idiots asking you to reinforce their otherwise pathetic lifestyle choices. (These personnel are typically not affected by the world at large and so it is of no concern to us what they learn about their sad and insignificant lives.) We would also like to commend you on your ethical decision not to give out stock market advice anymore. That principled act on your behalf instills in us the confidence that you will adhere to the terms of this agreement now or anytime in the future. We also ask that you not use the above mentioned payment to buy booze, drugs and/or prostitutes. You seem to have a certain affinity for that sort of behavior of late. This money should only be used to make the World a better place to live.

Thank you in advance,
Sir Walter Ott

Since The Mooj is in desperate need of money I gladly accept this payment! Being a man of my word (to the The Great Thinker's Society, not Mooj Weekly Standard readers) I now officially remove my Y2K predictions from this issue. (To be honest I was leery about publishing them anyway since I was sure that wide-spread panic would ensue once the good people of Florida and Delaware read about....er, actually, never mind. Mentioning those two pending meteor disasters might render the above offer void.)

Yo Mooj,

Last week I saw you and your trusty sidekick Lance Worthy on 14th Street in D.C. Aren't you guys supposed to be holy or Amish or something like that? The way you two were drinking and passing out $100 bills to strippers its no wonder you're totally broke now. I used to really admire you but now I think you're just a big fat, drunken slob.

Puff McDaddy, The Cheshire Pimp
Suitland, MD

The Mooj seriously doubts that it was Lance and I that you saw on 14th Street in D.C. because we confined most of our drinking and strip club activity to Laurel, Greenbelt and New Carrollton, MD. (Or at least that's where I think we were—actually, we were so drunk that we really could have been anywhere.)

Mooj,

I here that your in College Park, MD, have blown your money (again), and need to get to the Azores. The weather is getting cold and oystering season is just about over so I'm looking for gainful warm employment. Back to your problem. I think I can get both of us what we need. You need a ride and I have a boat. You can hire me to take you to the Azores. That way you get to your destination and I'm gainfully employed and warm. Why don't you come on down to Hollywood and we can work out a plan? By the way, I can get my hands on sum explosives if you need them for your mission.

Semper Fi,
Teach Lusby
Hollywood, MD

I ran your offer by the Boy Genius Trent Handjoy and he estimated that that piece of crap skipjack of yours wouldn't make it across The Chesapeake Bay, let alone the Atlantic Ocean (and that was assuming you were semi-sober and competent as a seaman). So I guess the answer to your proposal is no.

Mooj,

I'm not psychic like yourself but I'll bet you some serious green that you run into J. Edgar Gayson in the Azores. How do I know? Simple. One of your letters (that you wrote yourself and stuck into your newsletter to make it look like lots of people read it) stated that "the FBI has ... now acknowledged that J.E. Gayson is alive and well and living on some remote tropical island somewhere." And where are The Mooj and all his made-up companions supposedly going for some far-fetched treasure hunt? A remote tropical island somewhere! I suggest you work a little harder next time to foreshadow a planned adventure episode because if someone as stupid as me can see through your ploy, others can too.

Still a fan,
Barnaby Scott Holmes
Welda, Kansas

The Mooj thinks Barnaby Scott Holmes has been plucking and smoking the weeds that grow from the walls of his humble one-room sod house there in Kansas. I can assure my minions that my adventures are not only true, but unmodified or embellished. And I also avow that all letters that appear in The Mooj Weekly Standard are genuine and written by whoever it was that claims to have sent them in. Don't let some fuss bucket like Barnaby Scott Holmes ruin your lives. Barnaby is probably just like that smelly greasy skinned kid that ruined your childhood by telling you that there was no tooth fairy, Santa Claus, Easter Bunny or Sandman. Even if Barnaby Scott Holmes doesn't believe in me I still believe in him. That's because I'm The Mooj and I care about people (even losers like Barnaby)!

Mr. Mooj,

I have contacted the Justice Department and asked them to initiate a class action lawsuit against everyone who made a profit off of this y2k thing. I am now stuck with a large electrical generator, a 1-year supply of dehydrated foods to feed my family of 8 (actually 364 day's worth since we ate one day's worth on the last day of the last century just to get into the swing of things. Man, have you ever tasted dehydrated then rehydrated SKYLINE CHILI? Wow I thought the fresh stuff was great but you ain't had nothing till you have the dehydrated then rehydrated stuff!!!! But that's another story).

Anyway, I have a huge underground cistern holding a year's supply of fresh water, 1 mil rounds of ammo, 10,000 gals of unleaded gasoline, 10,000 gals of diesel, 100 oz's of gold, plus I had to sell 5 shares of my Berkshire "A" to pay for all this crap. I think I've been had! I think this whole thing was a big scam to get me to sell my stock. Do you think Warren Buffet is behind it?

What will I do? Mooj are you the Messiah? Will you lead your people out of the darkness and into the light? Is the world going to end soon? Are you a survivalist? Do you want help setting up a camp for your "chosen people"? I have some supplies, which you could use to get started. I'll donate the stuff if you include me. Do I have to become a "minion" or can I just stay being "me"?

Please Help,
Jonathan Asmus

P.S. I have some pigs too; they make great natural gas. You know the Chinese use the pig's decomposing dung (which gives off methane) to fire up the burners that they cook on!!!!! I learned that from Elizabeth Claire Prophet's survival manual. She used to think the world was about to end and that all of the West Coast would drop into the Pacific after a big earthquake. She set up some underground refuges for people who wanted to be spared the horrible death of drowning in the sea in Wyoming, Montana and Iowa.

The Mooj shouldn't really comment on this letter because of my agreement with The Great Thinker's Society. If I had published my Y2K predictions then you would have known the answers to many of your questions.
---

A few more readers took the plunge and asked for Mooj minion numbers. As we do every week let us welcome our new minion brothers and sisters and give them a big "cyber" hug.
William Jefferson Clinton, Mooj Minion #1127 claims to be the "Benevolent Dictator of the Clinton States of America." His response to why he would make a good Mooj Head was: "I have the full weight and power of the Justice Department on my side. Make me a minion or I'll set Janet Reno on you!!! Just kidding Mooj old Buddy. Hey, seriously, make me a minion and you can be part of my kitchen cabinet. I really need you to help reach out to the Uzbekistani-Punjabi community. I love your web site. Maybe you can help algore lighten up his web ventures. I know you're probably saying to yourself, 'why would I want to help this guy he's leaving office in a year or so.' Well Old buddy I ain't leaving! I'm gonna be here till I die! Don't worry, you don't to worry about a senate confirmation, you're a shoe in! I'll be in touch." [Note to readers of The Mooj Weekly Standard: The Mooj believes that this message might be a hoax and so we are checking into it. If this is in fact a false application (sent in by some retard pretending to be Bill Clinton), # 1127 will forever be eliminated from our record books or have an asterisk placed beside it stating that it was garnered under false pretenses. If no one at The White House gets back to us in a timely manner (in response to our query about President Clinton requesting a Mooj minion number) then it will be assumed that Bill Clinton did, in fact, actually send in this application and so he will be awarded all the things in life Mooj Minionship brings.]

Gray Allen Davis, Mooj Minion #1128 runs a tux rental shop in Dublin, CA. His response to why he would make a good Mooj Head was: "I was put on Earth to serve you Great Mooj. Make me a minion and you shall forever be proud of my loyalty. Oh Great One I am not worthy to wipe the [omitted] from your [omitted] but I will do such if so commanded."

Daisy D. Dalova, Mooj Minion #1129 is a male exotic dancer from Scranton, PA. His/her response to why he/she would make a good Mooj Head was: "I think I should be a Mooj Minion because I support the goals and efforts of the Mooj. I am a free spirit, like my namesake, Daisy Duke and I understand the true meaning of art, life and short shorts. Many think I am crazy. People aren't used to a tall, lanky man in hot pants, but the Mooj Minions need someone like me to proudly spread Mooj philosophy. I can also get the Mooj and that cutie Lance Worthy into the club where I work for free. I could also give them a ride in my white jeep."

"Eldorado," Mooj Minion #1130 is a super rich male with blond hair and blue eyes, who loves his parents. He did not write an essay but was granted minionship anyway because the interns liked his name.

Gus Zachreall, Mooj Minion #1131 is a tailor from Wilmington, CA. His response to why he would make a good Mooj Head was: "I'm the guy who taught Cal Worthington how to sing. That whole I'll stand upon his head till my ears are turning red thing was my idea, too!"

Tseng Xeng, Mooj Minion #1132 is a dissident from Beijing University. She claims that just mentioning The Mooj in China can get a person sent to prison for a long, long time. She believes that some things are more important than freedom and so she has defied authority and registered as an official Mooj Head. Good for her!

Gary Foote, Mooj Minion #1133 is a truck driver from Gassy, Oklahoma. His response to why he would make a good Mooj Head was: "I like your newsletter; but then again, I like toe fungus."
---

Far away in the village of Ramgajala lived a wise man. People would travel for days to seek this wise man's wisdom and the journey did not always guarantee an audience, for this wise man was very selective with whom he shared his wisdom. One day a Punjabi fellow made the long and arduous journey to Ramgajala to seek this wise man and was told that he was too unworthy to enter and so was sent away. The Punjabi fellow was persistent and remained outside the wise man's gate for several weeks until finally the wise man, who was furious with the Punjabi, yelled the following insult from his window:

"Zindagi jeene ke mazaa tab ataa hai, jab mauth ke ungeliya taam kar bhaaga djai!"

The Punjabi, a humble man, was satisfied with the wise man's admonishment and took it not as an insult but as a nugget of wisdom and decided to act upon it accordingly. And so when he returned to his humble village in the north he took aapse milkar khushii huyi phir milengay, as prescribed, and aapakaa bahut bahut dhanyavaad. This, of course, resulted in great discomfort and he had to be rushed by his wife to the village proctologist. When asked by the doctor why he would perform such an aberrant act he replied:

"Aaye hai duniya mein ashke peene ke liye, muskurana paregaa ab to jeene ke liye!"

The doctor told him that that was all fine and dandy but next time he should at least remove the coconuts from the shipping crate.
---

Last week was just a bad week all around. After Trent and Jeff had worked tirelessly to locate Inge Svensson's missing treasure we ran out of money. The most difficult part of the search had been completed and yet we had to sadly sit by and watch our fortunes erode because we couldn't afford to travel to the Azores, where our treasure was buried. Trent finally agreed to hit his parents up for additional funding but they couldn't be reached since they were away on holiday and they didn't tell Trent where there were going or when they would be back (like they did every year, according to Trent). We had no choice but to wait and hope that the motel manager didn't evict us.

Unfortunately this period of idleness got to our pal Jeff W. and he began to revert back to his habit of investigating things that he shouldn't bother with and so he foolishly began looking into the 1978 General Joe E. Johnson High School Prom Night Massacre. He must have discovered something of great importance because he dropped everything and headed off to Pickens County, South Carolina. Somehow he was able to eke out enough money to buy a one-way bus ticket by returning all the empty beer bottles that were stacked up to the ceiling in our motel room. He left a note explaining his absence and told us that he would be back in a matter of days. Trent found the note and by the time he got around to telling me about it Jeff was long gone. (It wasn't Trent's fault, its just that it took several days to sober me up.)

We waited in eager anticipation for Jeff to return but he never did. We soon began to worry. Then, out of nowhere, a sizable quantity of money from The Great Thinker's Society fell into our laps and we could finally afford to fly to the Azores. But since Jeff was nowhere to be found we had a dilemma on our hands: should we proceed to the Azores and dig up the treasure without him or go down to Pickens County, SC and find him? We voted 2-1 in favor of going down to South Carolina and finding Jeff. (I won't tell you which one of us voted to abandon our new pal Jeff but his initials are L.W.)

Using a portion of the money given to us by The Great Thinker's Society we bought a used '77 Trans Am and proceeded south on I-95 as fast as we could drive. We stopped eight times for gas, twice to eat, and once to pick up some fireworks at South of the Border. Finally, after 18 long hours of driving, we arrived in Greenville, SC. Trent assumed the role of Recovery Team Leader and ordered Lance and I to be as auspicious as possible, so as not to attract attention to ourselves. (The '77 Trans Am actually helped us in that regard.) Trent knew that Jeff's arrival the previous week must have been noticed by someone of importance and so we were commanded to be extremely careful. We knew foremost that we would have to completely avoid any mention of Jeff W. or The General Joe E. Johnson High School Prom Night Massacre.

Our first course of action was to infiltrate the community at large and assume new identities. We rented a small apartment on the outskirts of town and then proceeded to the nearest Wal-Mart to buy clothes, shoes, hats and accessories to fit it to the best of our ability. We also got mullets (you know, those stupid looking haircuts where our hair is short on the top and sides but long in the back). Then Lance and I (posing as Trent's Uncles) enrolled Trent in General Joe E. Johnson High School as a freshman. (Because Trent was only 13 years old he fit in perfectly.) Following Trent's instructions Lance and I then applied and were subsequently hired on as cafeteria workers at the school. Phase 1 of our plan was complete!

Starting tomorrow school returns from Christmas break and Trent believes that if we keep our eyes and ears open we might learn something about either the massacre or Jeff W. Tune in next week to see what we find out......
---

This week's story comes from Jules Vermilion of Odessa, Texas. Sit back and enjoy it (because I sure did).
GOSPEL CHORDS

When my ship went into dry dock at Hunter's Point Naval Shipyard, near San Francisco, California, the crew was moved off ship into a large barracks building. By some stroke of good luck all my roommates were guitar players like myself and so we often had jam sessions that lasted well into the early morning hours. There were also dozens of other guitar players in the building and so it seemed like almost every night our room filled with guys looking to have a good time. One night our room was packed and there came a knock at the door and in walked a hillbilly holding an old steel string guitar.

"Say, y'all lookin' fer another gee-tar picker?" asked the odd looking character.

We invited him in and he sat down and proudly strummed a chord. Everyone in the room stopped doing whatever it was they were doing (whether it be drinking, playing guitar, or just plain loafing).

"Hey, that's a gospel chord," joked my friend Rob.

"Yep, dats' right, a gospel chord," answered our new friend proudly. He then took a look around and noticed that the attention was all his and so he began:

"Say, I reckon I'll sing y'all a song I wrote fer my Mammy and Pappy a few years back when they was fixen on gettin' a divorce. It goes something like this....."

He then picked and hummed some tortured country medley about his ol' Pappy (who was always drunk), his ol' Mammy (who was always clobbering Pappy on the head with a frying pan when he came home drunk), and the undying love they had for each other when they weren't drunk and fighting. It went on and on and never got any better. When he finished the song we all had tears in our eyes—mostly from trying not to laugh.

Many years have passed since that long ago night and every so often I get together with my old navy pals. We talk about the good old days and inevitably someone brings up that guitar picking hillbilly and then we all try to piece together bits and pieces of his song. He really touched us much deeper than he had ever intended to!
---
---